Story and photos by Pete Shaw
On the surface, New York and Portland have little in common.  New Yorkers are direct in speech and they move fast. Portlanders are not sarcastic. New York is huge both in geographical size and population. Portland is quaint and over 80% white. New York has great pizza and bagels, and Portland…well, if you want to hear my feelings on this, we can arrange a few hours in a place far away from sensitive ears. The point is, there are many surface differences that when I visit The City while visiting family in New Jersey, strike me in the face with the subtlety of a flying mallet.
But there are also substantial points of commonality, dealing with matters far more weighty than speed, tone of conversation, heft, girth, and gastronomy.  On Saturday June 23 I had the pleasure of experiencing some of them on Houston Street, just west of Varick. There lies an Immigration and Customs Enforcement (ICE) building, and since it holds detainees, it is, just as in Portland, an ICE prison. And just as in Portland–and this is an unpleasant commonality–the jail stands close to a school, in this case PS 95, which, in what I assume is an unwillful act of defiance, has a sign outside of it calling for free lunches for all students, printed in three languages: Spanish, Chinese, and English. Here as there, the US jails people whom Republican Donald Trump tells us are some of the most dangerous people on the Earth, and don't seem particularly bothered about doing so within only a few feet of children.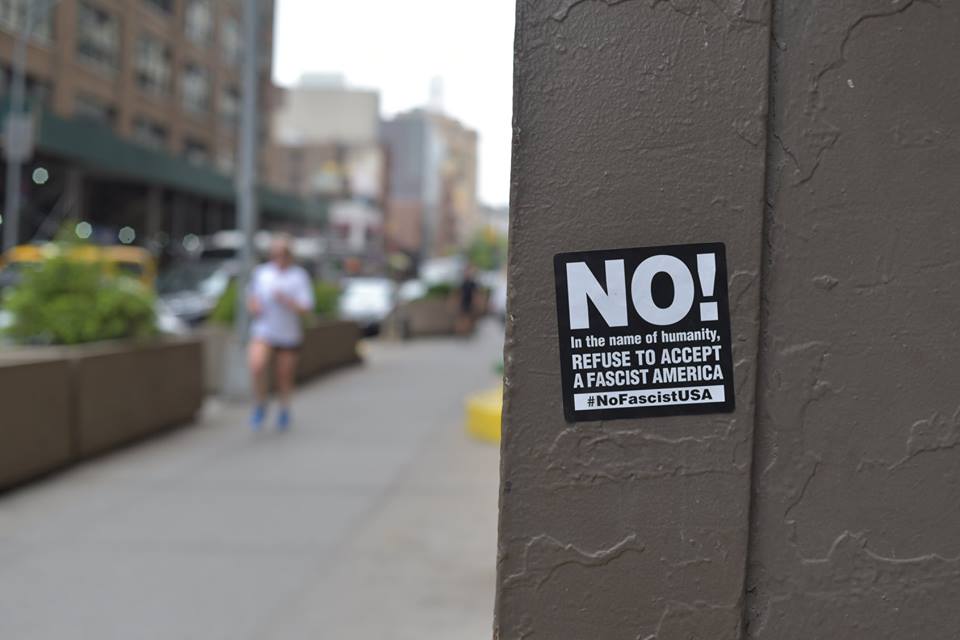 The ICE prison is in what I am told is technically West SoHo (for those not familiar with Manhattan's geography, SoHo is short for South of Houston Street). While equally hideous in function, it is far uglier than the one in Southwest Portland.  Depending on where you look up, it is between six and eleven stories high. Its brick facade, starting with the second floor, is occasionally punctuated by metal plates and windows.
The ground level is stunning in its honesty. Running the length of the jail on Houston Street are nine large metal garage doors labeled "Receiving."  These are not people who are being brought here. They are commodities, and for Donald Trump, ICE, and their supporters, undesirable ones.
I mention this candidness to Jose LaSalle, who works for an outfit called the Copwatch Patrol Unit (CPU), something that sounds similar to Portland Copwatch.  "They're not ashamed," Jose told me.
Jose is one of the 10 to 18 people who, for the three hours I spent outside garage doors 3, 4, and 5, are making a stand against ICE.  At least a few of them, including Marisa and Maura, belong to the Metropolitan Anarchist Coordinating Council, which for a few days, along with other groups, has organized a protest in front of the prison in the same manner as people in Portland have been doing since early last week.  
Some of these people have been spending long hours on the concrete. Jose looks exhausted, and after about an hour, he heads home to get rest. He not only works with CPU, but also holds another job, from which he has just come.  To my left, I hear this snippet of conversation:
"How long you guys been here?"
"Eight, last night."
"5 AM."
"Oh shit!  I just got here!"
"Welcome!"
A young person named Dankson, who previously had been trying to nap next to his guitar leaned up against a wall between garage doors, had been there keeping watch since the day before. Like Jose, he looks like he desperately could use sleep. It is a bastard day–cool and overcast with a threat of rain–and when I lament that I brought Portland's stereotypical weather with me, Dankson tells me how in 2014 he and some friends traveled up the West Coast, starting in San Diego and finishing in Seattle. They did this through at least some of the Summer and greatly enjoyed the fresh fruit, mentioning in particular avocados in California and plums in Oregon.  They spent three days in Portland in August, living underneath the Hawthorne Bridge. He likes the West Coast, but I take it that for him, Manhattan, where he has lived most of his life, is Home.
When I ask Dankson why he is here, he misinterprets my question.  What I mean is why, when he is clearly running on fumes, is he not getting some rest. He has said more than a handful of times that he is going home soon, but soon seems not to be now. Or even soon.  When he answers my question, it becomes clear why. Just like the folks outside the ICE jail in Portland, he wants to show support for and stand in solidarity with "those wrongfully imprisoned, especially kids."
"Nobody belongs in a cage," he continues. "Everybody in this country breaks one law a day, whether they know it or not. There is no excuse to take kids away from their parents. It's an international debacle."
A man and three kids come along.  One of them has a skateboard with a sticker on it that reads, "NO!  In the name of humanity, refuse to accept a fascist America. #NoFascistUSA." Over the course of the next two hours they will hold signs, appealing to cars passing by.  One says, "Honk for cage free kids!" and the kid bearing it sometimes asks a driver, "Do you hate ICE?"
A woman walks by and shouts, "WOO!  WOO! All ICE should melt!" Quickly, the kids grab a piece of posterboard and some markers and write down her words. They then return their attention to the passing drivers. Usually they are met with honks of approval, although a few drivers give them the stink eye.
I get into a good conversation with Ryan, a young man from Huntington Beach, California, who two weeks ago arrived in New York and is living with his brother. He is the one who has been here since 5 AM, and he is torn between plans.  On the one hand, he wants to get Italian citizenship, something for which he is eligible. He had been in some of his ancestors' commune, a small town outside of Bari, the ancient port city along the Adriatic Sea. A resident told him not to live there, for there would be nothing for him.  Maybe, maybe not. But regardless, he wants to use that Italian citizenship to go to Berlin and work on making movies with a Friend with whom he has already made a short movie. That Friend, when growing up, spent summers in Almeria, Spain, which is where Sergio Leone filmed his spaghetti westerns. I successfully suppress my usual urge to go on a days long commentary about my love of Leone's movies.
Ryan's two weeks in New York have been giving him second thoughts. He loves The City, although he acknowledges his tune may change if he has to start paying full rent. Beyond that, he feels a responsibility not to leave the US–not when there is so much work that needs doing. It is why he is here in front of the ICE prison. Like everyone else I have met here, he could easily be any of the committed activists I have been lucky to meet in Portland.
A couple passes by and asks if the group needs anything. Dankson and Marissa say they could use tarps, blankets, and chairs. Off the man and woman go, and a short time later, they bring two chairs and a couple of tarps. Some other folks drop off a bag of emergency blankets.  
While the Yankees and Red Sox may be heated rivals, there are boxes of sweet goodness from that venerable-to-some New England institution, Dunkin' Donuts, along with some of their coffee which Portlanders would likely find offensive. Thoughts count, however, and anyway, there are other items available. A sign on one of the garage doors requests that people keep the area clean.
Another person brings more tarps.  Two young women bring bags of something that are happily received. The crowd has now swelled to 18. Dankson says he expects, hopefully, more people to come on Sunday night or Monday morning, when the jail will again be open for its sordid business.  
There is excitement in the air. It is Pride Day in New York, the Dyke March is going to come by and give its support.
When I mention during a small group conversation that I am from Portland, some people are excited.  Maura tells me the people who have shut down the ICE jail there are an inspiration. I agree. I tell her how impressed I have long been with the organizing among Portland's immigrant community and the many groups working in solidarity with it. She hopes for the same here.
Marisa is giving an interview. She is a liar of sorts. A couple of hours ago she said she was going to get some needed rest. Now she is back here because, I assume, she feels–she knows–this is where she should be. When asked what she wants people to do, she says she wants them to come out and interfere with the functioning of ICE.  Simple. Direct.
I talk with a nice man who has been there for about 90 minutes.  He is excited by what is happening across the country in response to this current crisis. He is also distraught that perhaps the feeling of hopelessness that has pushed some people to take their own lives might seep into his existence.  We talk some more. I hope I bring comfort, as well as hope and its necessity.
All too soon, it is approaching 3 in the afternoon. I need to get back to New Jersey. By my mom's quaint, but common for her generation, New York standards, we are all now Friends. After all, we have met each other. I thank them for what they are doing, promise to send word back to Portland, and wish them well.
They are Friendly. They are Kind. And they are good people doing good work. Just like their Partners in Justice in Portland.