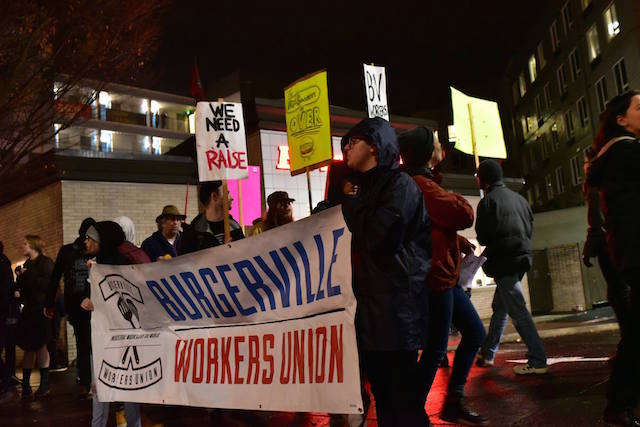 Story and photos by Pete Shaw
Someday they may refer to it as the BVWU Number, the universal standard for the interval between impossibility and achievement. It sure seems like it should be in an organizing textbook. In April 2015, when the Burgerville Workers Union made its debut, it was taking on the challenge of organizing people in an industry that has historically resisted its workers being organized.
Burgerville, while not close to the size of McDonald's or Burger King–it has 37 stores, all in Oregon and southwest Washington–is something those fast food behemoths can never will: an icon for doing things Right. It marketed itself as offering locally sourced food provided by a responsible corporate citizen that felt like a decent, conscientious neighbor. The recycling program is extensive. It composts food waste. All of those 37 locations run on wind power, as does its headquarters. And their chocolate hazelnut milkshakes are pretty fucking incredible.
But when it came to how it treated its workers, Burgerville was no different than any other fast food chain. So when some Burgerville workers decided they wanted to form a union, one of their most daunting tasks was showing the public the distance and disparity between image and reality. Was Burgerville, as it portrayed itself, a really great neighbor? Or not?
Numbers are hard to come by, but in July 2011, in the Columbian, it was reported that Burgerville "generated about $75 million in annual revenue" in the prior year. Clearly, Burgerville holds a great financial advantage over a group of workers–who want to be paid a livable wage–when it comes to defending its image as a wholesome member of the community.
In 2014, a National Low Income Housing Coalition report concluded that a single mother earning the minimum wage in Portland would have to work 78 hours a week to afford a two bedroom apartment. In order to afford that apartment on one 40 hour per week job, she would need to earn $17.73 an hour. This was far from the Burgerville wage, and with its squeaky clean reputation, Burgerville had no reason to offer it.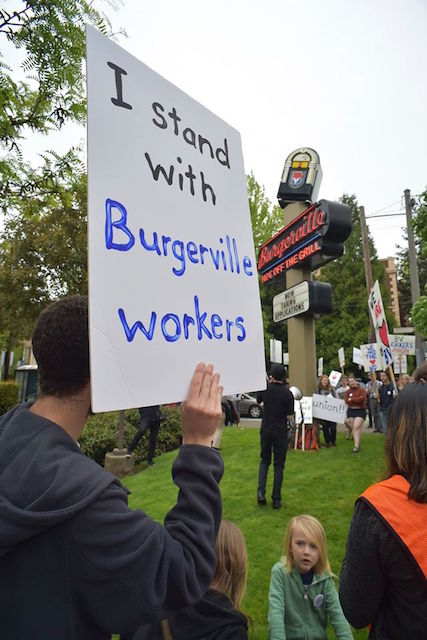 So on April 25, 2016, as I sat in the Clinton theater waiting for the debut of the BVWU, I was understandably cautious about being too hopeful that these workers would gain that livable wage. However, once things got under way, I threw my circumspection to the wind. Workers, both from the stage and on a short video, told stories of their struggles to make ends meet, putting a face on what a Burgerville wage bought and as well, left behind. My Friend Lu Brennan, who worked the Burgerville at the Portland Airport, told the audience how after paying rent, a student loan, and car costs, he was left at the end of the month with $27. This, he noted wryly, would let him eat at Burgerville three times.
These were the people at the heart of enjoying a Burgerville meal. They were the ones who took the food orders, made food, brought the food to the customers, and cleaned the tables, chairs, floors, and bathrooms. They, not Burgerville management, were the reason people returned for more.
In covering the BVWU over these nearly six years, I have often harped on how its members and supporters kept further establishing solidarity with faith, labor, and community groups. At its unveiling, the BVWU–affiliated with the Portland IWW–had the support of quite a few of them, including Portland Jobs with Justice, the All-African People's Revolutionary Party, the Portland Central America Solidarity Committee, the Portland Association of Teachers, ILWU Local 5, the Alberta Cooperative Grocery, and People's Food Co-op. The incoming president of the Portland Association of Teachers, Suzanne Cohen, was on hand, taking her union's support to the stage. 
The BVWU immediately got to work, boisterously marching out of the theater and up Southeast 26th Avenue to the Burgerville where 26th hits Powell. They never stopped. They kept reaching out, and each public action–walkout, picket, Unfair Labor Practice strike–seemed to involve larger numbers. Likewise, more workers joined the union and by 2019, the union could boast successful drives at five Burgerville locations.
A year earlier, the union had called for a boycott as it went out on a three day strike. Burgerville lost my business. It lost my better 99%'s business. It lost at least some of the business of the people with whom we spoke about the boycott. It lost the business of the numerous members of all the groups with which the union had forged bonds.
It never failed to impress me when the union set picket lines at the Burgerville on NE Martin Luther King, Jr. Boulevard on the nights of Trailblazers games. What should have been bustling crowds of fans eager for burgers and fries was reduced to a trickle, with most of the workers inside left with little to do.
Now, nearly six years after marching out of the Clinton Theater, the BVWU has become the first fast food workers union in history to sign a contract. They organized, they agitated, they educated. They put their noses to the grindstone. They showed people the real cost of the myth of Burgerville, and people did not like what they saw.
In a December 17 statement announcing their achievement on the BVWU's Facebook page, the union wrote, "With a membership turnout of 75%, workers voted 92% in favor of ratification. Throughout the voting process, workers brought up many important issues. They brought up things they were happy about codifying like 3 month schedules, the new tipping system, ending At-Will employment. They also brought up issues we hope to fight for moving forward, like higher pay with seniority, more paid holidays, 15 minute breaks, and much more. Far from being the last of our story, this is the beginning of our next chapter as we push to build a union standard for fast food, with all our emerging allies around the US."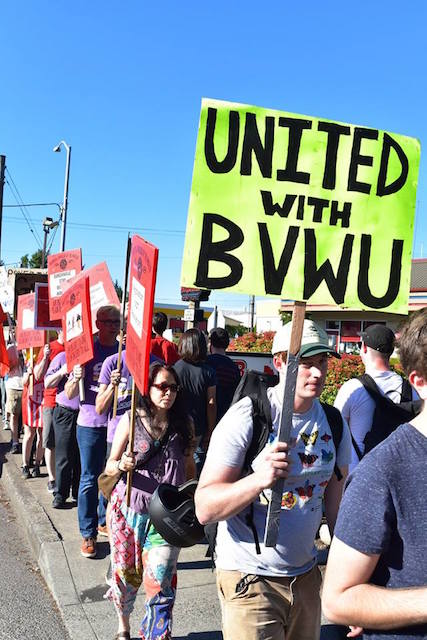 The key of all this, it seems to me, lies in that final clause "with all our emerging allies around the US." In some contexts it could sound like boilerplate. Not this one. About six hours after the contract announcement, the BVWU put up another post. Portland area members of the United Food and Commercial Workers Local 555 had a few days earlier announced that Portland area QFC and Fred Meyer workers were starting a weeklong strike to force management to treat them like the cherished and irreplaceable front line workers management says they are.
Fresh off a victory that had been earned through intense, long work that included fostering so much solidarity, the BVWU reminded people not to cross those picket lines. I know many were planning to march on those picket lines. Of course they were.
On its Twitter feed, Burgerville management wrote, "We are pleased that the Burgerville Workers Union has ratified the nation's first fast food union contract and we look forward to working with the union to continue making Burgerville the best restaurant to work at in the Pacific Northwest."
The statement beggars the question, If Burgerville management is looking forward to working with the union, then why did it resist working with it for so long? With Burgerville's thin veneer of being a paragon of local values stripped away, the answer is clear. Burgerville is a corporation, and its highest calling is profit, even at the expense of the workers upon whose backs that profit is made. That's why it took over three years, and 51 bargaining sessions, to arrive at an agreement.
The new contract expires on May 1, 2023. Management will no doubt soon be getting to work on grabbing back what the union forced it to concede. But as the union noted on December 17, it is intent on gaining even more, and it intends to do so by bringing in more allies.
There was a celebratory party the day following the announcement of the union's contract approval. The festivities kept close to heart and mind that this was not just a victory of, by, and for Burgerville workers, but also the entire labor movement. Good spirits were certainly in order.
Solidarity gets the goods, and in the end, achieving the impossible was only a matter of time. One BVWU Unit's worth.