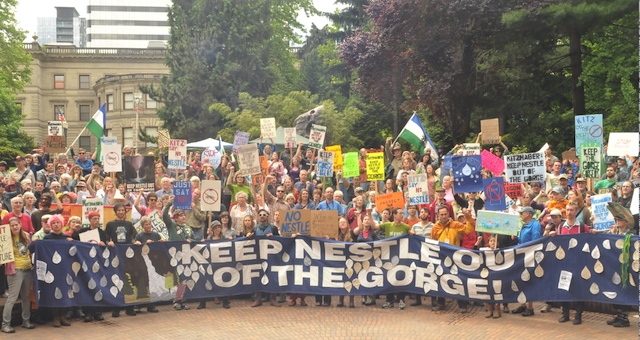 Story and Photos by Pete Shaw
Governor Kitzhaber got a message. A very loud message from 120 people in Schrunk Plaza demanding Nestlé not be allowed to plunder water from the Columbia River Gorge, chanting "Water is a human right! Don't let Nestlé win this fight!"
Nestlé wants to erect a bottling plant in the gorge and use Oregon's spring water resources to tap over 160 million gallons of water a year that will be bottled and sold. The bottling plant, which is slated to be built in Cascade Locks, is seen by many in that area as a boon for jobs. According to Nestle, the plant would employ about 50 people, and, with the town locked in an economic depression, those jobs seem all the more appealing. But according to Julia McGraw of Food and Water Watch, those jobs not only come at the cost of giving up control of public water, but will also negatively impact tourism in the town as visitors will shun the sight of a bottling plant and its accompanying noise and traffic pollution in favor of Hood River or Portland.
Activist groups intent on preserving Oregon's water note that there is no guarantee those 50 jobs will go to people in Cascade Locks. Plus, those jobs come with a cost as the bottling plant will require road upgrades, electricity, and wastewater treatment. Nestlé has already stated the roads must be funded by taxpayers.
In addition, according to the Pacific Institute, each bottle of water requires three times that amount of water to produce it. The most common water bottles are made of polyethylene terephthalate, or PET, and the Pacific Institute says that these bottles–which, post consumption, contributed  over 900,000 tons to landfills in 2006, leach pthalates into water supplies where they cause reproductive problems, liver disease, and an increased risk of cancer.
The amount of energy necessary to produce and fill these bottles with water is also tremendous. To manufacturing those 900,000 tons of plastic bottles in 2006 required over 17 million barrels of oil, while another 12 to 36 million barrels went into filling, transporting, refrigerating, and recycling or disposing of those bottles.
And, of course, all this use of petroleum leads to pollution. Those 17 million barrels of oil used in bottle production put 2.5 million tons of carbon dioxide into the atmosphere, not including the emissions resulting from transportation.
"The Gorge is a beautiful place. I care about the environment, and I care about The Gorge," said Viviana von Borg, a 16-year-old student. "No one wants to see a giant building producing plastic bottles in the middle of nature. You can't find anything good about it."
On a larger scale, there are issues of privatizing a resource required for life on earth. "I don't believe water should be privatized," said rally attendee Trillium Shannon. "We have really bad examples, such as Cochabamba, of communities being charged outrageous prices for water when it is privatized. Water is a basic human need, and it is a human right to have access to it." Shannon was referencing the privatization of water in Cochabamba, Bolivia, when the right to the water there, including rain, was given to Aguas de Tunair, a subsidiary of the multinational corporations Bechtel and Biwater. The result was decreased access to water accompanied by an increase in water prices. The people fought back, and they won back their water.
Former Multnomah County Commissioner Barbara Willer spoke at the rally, reminding people "we all have a collective responsibility to make sure we all have access to water." Willer also noted the absurdity of allowing Nestlé access to Oregon's water in order to sell it–sometimes to Oregonians. "We have pristine water. Does this make sense to transport pristine water so it can be sold back to us at more than the cost of getting it out of our taps?"
Sister Brigid Baumann of Sisters of the Holy Name urged people to consider who really benefits from Nestlé bottling plant. "Is this a good move for our state? Is it looking at immediate gains? For whom? Nestlé gets the money. We pay it out for roads. What will this loss of water do for our farmers? What impact will it have on recreational activities?"
Sister Baumann urged all Oregonians to stand with her as she said, "Water is a sacred gift that connects all life. I look at Nestlé and I say no."
Minutes later, through a cell phone held aloft at the podium, the crowd urged Governor Kitzhaber to say the same.