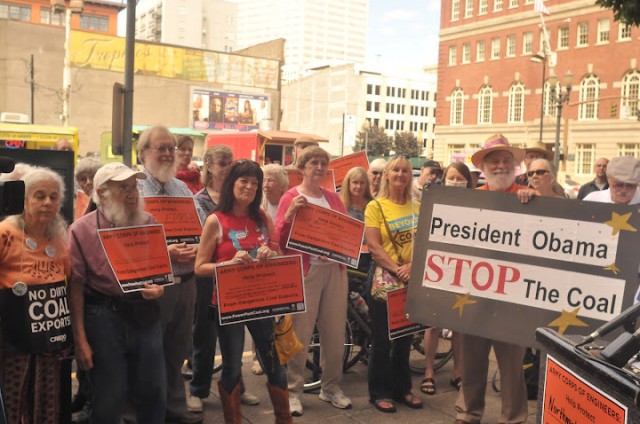 Story and photos by Pete Shaw
A boisterous crowd of over 100 people descended on the Northwest Headquarters of the Army Corps of Engineers on August 28 to demand an environmental and public health impact study for all four possible export coal terminal sites, as well as planned routes for the trains and barges that will transport that coal.
Along with the study, those at the rally demanded the Army Corps mandate a structured public testimony period that would allow people whose lives will be affected by the coal trains and barges–which is to say all Oregonians and Washingtonians–to explain their positions, something that so far has only been done at grassroots public protests and rallies.
The rally began with a bit of good news as Portland City Commissioner Amanda Fritz, who emceed the event, told the crowd that Grays Harbor would not be a coal export terminal, and also that, while the fate of Hayden Island remains in the air, if it is turned into a port, that port will not export coal. One of the organizers of the rally took clear pleasure in updating a map displaying the proposed routes of the coal trains and barges by drawing an "X" through Grays Harbor.
Moli Thomas, a Stevenson, Washington business owner and City Council member, talked about the economic impact the coal exporting plan will have on her community, an impact she described as "devastating." According to Thomas, 72% of retail sales in Stevenson are related to tourism, as are about 49% of the jobs in Stevenson and Skamania counties.
With coal trains that average 1.5 miles in length passing through Stevenson every 24 minutes, Thomas cited estimates that the waterfront and commercial business districts would be inaccessible for 40 minutes every hour, every day. "Currently there are no adequate alternatives to access to the river and commercial district," said Thomas, "and there are no provisions in place to fund alternative access. To do so would add insurmountable financial burden to the people of our community."
Kate McBride, a member of the Hood River City Council, spoke on the economic impact of the coal trains and barges should Oregon and Washington's railways and Columbia River become the "coal chute of the nation." One of the primary sources of revenue for Hood River lies in its position along a portion of the Columbia River whose high wind gusts make it a Mecca for windsurfers and kiteboarders. McBride noted that the increased barge traffic on the Columbia would "clog up the river, making all of these sports more dangerous and less attractive."
McBride noted that adding an extra 50 trains to the 30 that already run through Hood River each day would hurt local business, since those additional trains would be spewing dust from the coal in 120 gondolas and thus make crossing the bridge undesirable.
With money already stretched thin, McBride wondered who would pay for the inevitable fires that will result from the buildup of coal dust on the tracks, or the cleanup from a derailment. (In the past month there have been eleven coal train derailments.)
The final speaker was Martin Donohue, an internist at Kaiser Permanente representing  Physicians for Social Responsibility. Donohue outlined four of his coal export concerns: diesel particulate matter, coal dust, noise, and delays at railroad crossings for emergency vehicles. Regarding the first two, Donahue laid down a litany of various ailments that can –  and likely will – result from exposure to these substances, none of which a person would willingly pursue on their own volition.
Over 20 Northwest cities and counties, including Seattle and Hood River, have passed resolutions either in opposition of coal export, or expressing concerns over coal export. Troutdale will also consider a resolution on coal exports this month.
During the question and answer session that followed, a KBOO reporter asked Fritz, who has long been working on crafting a council resolution for Portland to address the coal export train issue, why the City was not pursuing a stronger resolution such as the one that anti-coal activists are working on in Bellingham, Washington.  That local local Community Rights Movement initiative states that the people of Bellingham have the right to govern themselves, and the right to protect their quality of life, and therefore the right to ban coal traffic through their city. That template of asserting citizens as the source of power in our country, not corporations, is the foundation of our state and federal constitutions.
Another person asked Fritz what she and the council were doing toward making the electric utilities public and then subsequently working toward getting rid of coal burning power plants — PGE's Boardman, Oregon plant is scheduled to stop burning coal in 2020; Pacific Power gets 62% of its electricity from coal fired plants — something that would be far more palpably constructive than what right now appears to be a meek council resolution. (If these utilities were publicly owned, We the People of Oregon could begin moving them toward clean energy immediately.)
To both questions Fritz offered what charitably could be described as tepid, measured responses that many in the crowd found unsatisfactory, though befitting of an incumbent in a tight fight for her job whose achievements in office have tilted more heavily toward process than legislative accomplishment.
Regarding the Bellingham resolution and how Portland could use it as a starting point for its own resolution, Fritz uttered a boilerplate response about the importance of getting everyone on board and that "we do what we can." To the public utility question, she could only answer, "Let's do one step at a time," before looking for another question, causing what was otherwise a vibrant and strong showing to end on a weak note.
The coal export issue — with its fetid, sooty trains and barges, and the economic, environmental, and public health impacts — is clearly important. But there is also a bigger picture that will necessitate doing far more than crafting a mild resolution that kindly requests that coal trains not run through Portland and the Northwest. The coming City Council resolution will at best have almost no legal reach. Coal trains running through Oregon and Washington, bringing their cargo to ships bound for Asia, are part of larger issues such as public health, freedom, democracy, and sovereignty that will be further eroded through so-called free trade agreements such as the Trans Pacific Partnership, in which the export of coal plays a significant role.
Though Fritz, putatively the progressive council voice, rightly noted that this is a "Pacific Northwest, national, and global issue" and praised those present for "taking it on together here," she seemingly is moving with an urgency little different from our leaders who still deny climate change.
Donohue's closing words hit a tone much closer to the exigencies of the situation, noting that the burning of coal is the major cause of global warming and resultant climate change. He echoed McBride's statement that shipping our problems —  and 19th century technology — overseas is insupportable.
"I don't think it should be acceptable to us in the Northwest," said Donohue, "And I don't think it should be acceptable to us on the planet."
On September 19 at 2 p.m. the Portland City Council will bring forth a coal export resolution.  Citizens will be able to make public comment before the council votes.