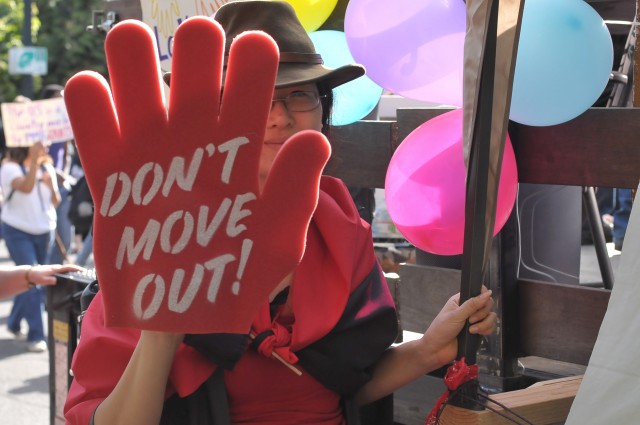 Story and photos by Pete Shaw
Local housing justice activists will go on trial in June for their attempts to help keep a foreclosed family in their home during an eviction in which police used pepper spray against protesters.
In October 2012, deputies from the Multnomah County Sheriff's Office (MCSO) and Portland police evicted Patricia Williams and Darren Johnson from their SE Portland home. When deputies arrived, a call was put out to the Rapid Response Network, and soon a crowd of over 50 housing justice activists and foreclosure resisters appeared to  try and help Williams and Johnson remain in their home. Some of the crowd were pepper sprayed and warrants were issued for three of them.
Those three–Dustin Hawks, Itztli Nexcoyotl, and one who requested anonymity–later voluntarily appeared for arraignment and have been charged with interfering with a peace, parole, or probation officer, obstructing governmental or judicial administration, disorderly conduct in the second degree, criminal trespass in the second degree, and assault in the fourth degree. On Tuesday April 23 they appeared at a pretrial hearing. Another pretrial discovery hearing is set for May 21 at 9 a.m., with the trial beginning on June 24.
At the pretrial hearing, over 30 people accompanied the trio into the Multnomah County Courthouse, packing the courtroom and spilling over into the hallway. Following the hearing, they convened in Lownsdale Park for coffee and snacks and a brief rally provided by We Are Oregon.
"None of us by ourselves have much power," Nexcoyotl told the crowd. "That's why we need solidarity."
The most obvious display of that solidarity occurred on May Day last year nearly when over 200 community activists helped Alicia Jackson take back her home. Since then, twelve homes have been defended, and eleven of them are still being defended. People have risked arrest and chemical attacks by police because their neighbors are being evicted from their homes while the banks that caused the housing crisis make profits from foreclosed houses.
The movement has been persistent; the eleven home defenses are proof of that. Keeping people housed in the shadow of  powerful state and banking interests is no mean feat. It requires many dedicated people. As in the case of the Williams and Johnson home, activists have not been willing to suffer defeat. Not long after Williams and Johnson were evicted, activists helped them take back their home. They remain in it today.
Commenting on the effectiveness of community supported foreclosure resistance, Nexcoyotl said, "When we get together like this–when we take collective action–we have an effect. Together, we can build a movement."
The housing justice movement has highlighted a vital difference between liberal politics-as-usual and direct action. The former involves petitioning, protesting, making phone calls, writing letters, voting and other approaches that are predicated upon reforming the social, economic, and political systems by using the tools of those systems. These are certainly worthwhile activities and goals, but the people who are losing their homes do not have time to wait. The housing justice movement takes matters into its own hands. Doors open as well as close, and people forced out of their homes can also be returned to them. With over 1,500 people on the Rapid Response Network, any attempt by a bank or mortgage company to kick homeowners to the curb can be met with swift and stiff resistance.
It is because of this community response that values people over profit that the police and courts have been more violent toward home defenders than other kinds of protesters. The home defenders subvert the system. While politicians like Portland Commissioner Nick Fish search for solutions that seem tailored to satisfy the business community more than the needs of people, the housing justice movement sees a few hundred vacant houses that can–and should–have people living in them. They believe housing is a human right, not a market from which to cull a profit. If there is to be a sit-lie ordinance, it should be that all people must have housing in which they can safely sit and lie.
Housing activism is not new. During the Great Depression the same thing happened in cities across the country. Police would remove people's belongings from their home and and then neighbors would return it. In the end, there was little the authorities could do, given the high level of resistance from communities refusing to let their neighbors become houseless.
A year and a half after Debbie Austin–the first publicized evictee–began resisting foreclosure, it is clear that housing justice is a movement, not a few isolated events. Actions are well-coordinated, and behind the scenes of every foreclosed house there are many people doing the often invisible and thankless work of organizing. More and more people are joining the movement out of recognition that the system is continuing to funnel money upward to the rich, leaving them to orchestrate their own redemption.
Hawks, who is facing jail time for his housing justice work, understands the greater scope of the movement. "This is a struggle for land. Working class communities, especially communities of color, are being decimated by business interests and government police forces that take our land for the ruling class. This isn't new; it's a story that has been repeated throughout history. If we want to change the course of this history, we must work collectively to create and implement new forms of resistance. This is the only way to ensure that land and resources are in the hands of the people."
To join the Portland Liberation Organizing Council's Rapid Response Network, send a text message to the number 23559 and type @Ploc-openrrn — you'll get alerted when a community home defense takes place.
For more information on foreclosure resistance, including how to become a home defender, go to weareoregon.org.