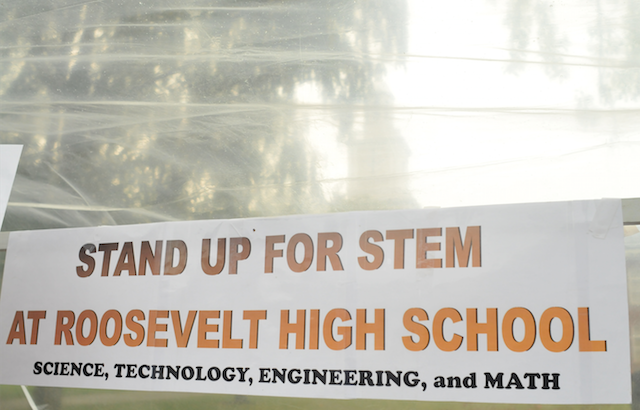 Story and photos by Pete Shaw
A community group based in North Portland has filed a complaint with the US Department of Education's Office for Civil Rights declaring that Portland Public Schools (PPS) "approved a discriminatory plan for the major remodel of a high school in a lower-income, minority white neighborhood of Portland, Oregon." The complaint focuses on Roosevelt High School, which is scheduled for an overhaul plan next summer.
The remodel is needed in order to create space for the Science, Technology, Engineering, and Math (STEM) program that is being established in the school. STEM is a project-based program that places a much greater emphasis on learning-by-doing than most classroom subjects; it also requires that students work together in completing those projects. Supporters of the program state that STEM "attracts students who are underrepresented in Math and Science educational settings, and related careers, especially students-of-color and girls," and that it "promotes college readiness and is a foundation to many good paying jobs."
According to Donna Cohen, who filed the complaint, "A good STEM program requires a large workspace where all the resources necessary to creating a challenging project design and construction are close at hand. Neither STEM space in the remodel design is large enough for a proper STEM program."
At first, the group had asked PPS to reconsider its designs, focusing on the technical aspects of the remodel. The complaint was filed when, Cohen says, the group realized "that approach was not going to work," leaving "the community with no other recourse than to seek redress through the federal government…in the hopes that we can put Roosevelt High School on the correct educational path for STEM."
Nicole Leggett of the Arbor Lodge Neighborhood Association, who attended a press conference held outside of the school, stated that Roosevelt students "deserve an equitable level of access" and should be offered "the same opportunity as across the district."
Cohen noted that Roosevelt's graduation rate is 64% and is even lower for poor students and students of color. She added that many students who live in the area served by Roosevelt choose to attend other high schools. "A good STEM program can help reverse these trends," said Cohen.
The STEM program at Roosevelt is slated to be in two separate school spaces of 2000 and 3500 square feet. Compare that with Franklin High School whose STEM students will be afforded a 9000 square foot contiguous design. The complaint states that neither of the two STEM spaces planned for Roosevelt "is sized within the recommended requirements for a STEM space." It goes on to note that unlike Roosevelt, whose population is 70% non-white students, Franklin is located in a "primarily white neighborhood." Just over half of Franklin's student population is composed of young white women and men.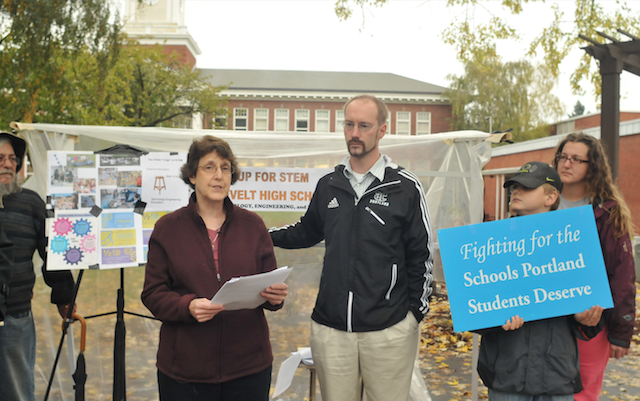 The complaint also states that no teacher with a Technology-Engineering endorsement was called upon to "contribute expertise on design of the STEM workspace. in "both the design of the workspace as well as the selection, arrangement, and instruction of tools and equipment used in project construction, the foundation of STEM's project-based, hands-on approach."
The result for Roosevelt's students, says Cohen, "is a fatally flawed design that runs counter to the fundamentals of STEM: connectedness and collaboration."
The group is seeking "to have the design of the STEM workspace correspond to usual and customary practices in STEM space design, which is to have a contiguous workspace, equivalent to–at the very least–the combination of square footage of the two current planned STEM areas located in different parts of the school." Acknowledging that this space would still be "considerably smaller" than that of Franklin's STEM remodel, at least, the group says, the spaces would be more closely aligned. A handout comparing the designs of the two schools reads, "We are not asking for more total square footage. We are asking for the space to be "STEM appropriate"–all areas connected."
Additionally, the groups wants PPS to recruit an instructor endorsed to teach the Technology-Engineering portion of STEM, an option not available in Oregon since it currently has no teacher education program in Technology or Technology-Engineering Education. Since the state lacks that program, the group has suggested PPS "reach out to teacher ed programs in states which have them, and to also ask for support" from the International Technology and Engineering Teachers Association. According to the group, PPS has instead been trying to recruit engineers to fill the teaching position. An engineer–however valuable his expertise may be to a STEM program–is not trained as a teacher.
Ultimately the group wants more community involvement in the crafting of the STEM program. For example, the group is insisting that community members serve as advisors "to meet eligible candidates, know their qualifications and provide feedback to the district on their suitability."
While the STEM program appears a reasonable approach to education–certainly something closer to John Dewey than the standardized test regimen that is being pushed as the true measure of effective pedagogy–it will prove meaningless without the proper people in place to design and implement it. The flaws of Roosevelt's design, glaring when compared with Franklin's, seem to be a product of a Board of Education more concerned with style over substance. It is, for example, difficult to understand why a person the Technology-Education expertise would not have been consulted over the design of the workspace. That lack of expertise, according to the group, extends throughout the program, even to curriculum planning.
"Without filling this need for expertise," the complaint concludes, "STEM program planning will suffer from the same deficiency in the educational knowledge-base as the facility design suffered, with similar disastrous results."
Want to get involved? Portland Public Schools' Board of Education will be holding a town hall meeting at Roosevelt High School (6941 North Central Street) this Wednesday from 5-7:30 PM.
For more information go to: http://www.dcoheninfo.com/RHS-STEM.html