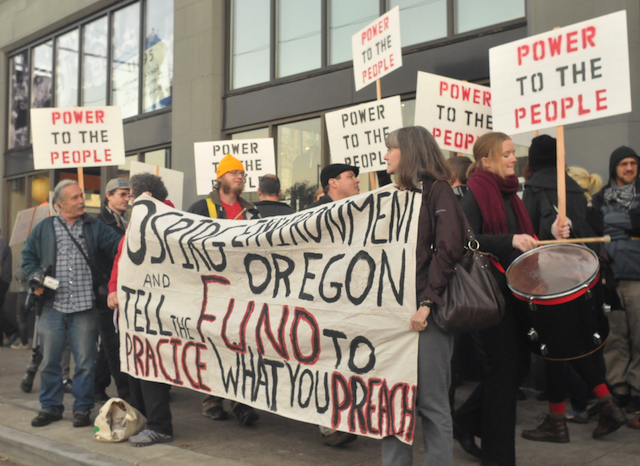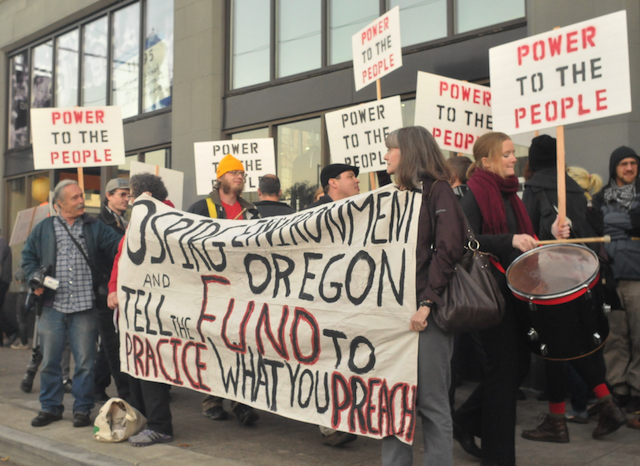 Story and photos by Pete Shaw
Banging pots and pans and getting the support of passing cars honking horns, 160 supporters of workers from the Fund for Public Interest, the paid fundraisers for OSPIRG and Environment Oregon, marched along SE Grand and Morrison on November 14th, demanding employees be treated with dignity and respect. Fifteen workers for The Fund walked off the job at 4:15 PM, joining the march. The action followed the recent firing of David Neel, a worker at the Fund, who was the last of the remaining original organizers of the union in this workplace, Communication Workers of America (CWA) Local 7901.
On October 12, 2011, workers at the fund voted to unionize, and since November 4, 2011 they have been bargaining for a contract. Between then and today, six union organizers have been fired from their jobs. Neel says the current team of contract negotiators stood behind the action which was endorsed by Cascadians Against War, Culture of Resistance, and Occupy Portland. Members of Jobs with Justice, the AFL-CIO, and SEIU were also there.
It is no small contradiction that The Fund raises money for groups committed to progressive causes yet, as Madelyn Elder, president of Local 7901 put it, treats its workers "like any other corporation would." Neel described it as a case of NIMBY (Not In My Backyard). "The Fund treats workers bad, but raises funds for progressive causes."
"The union's concern has never really been about money," said Neel. "It has been about job security and decent working conditions. The Fund has no loyalty to employees. Pay stability is ridiculous. You can be making $14.50 an hour, have one bad day, and then be down to $9.50 an hour."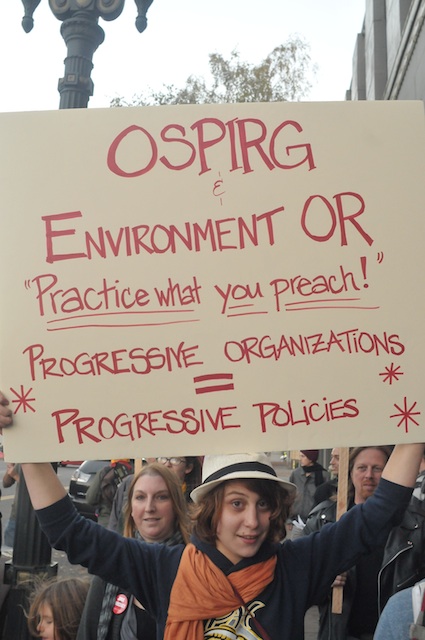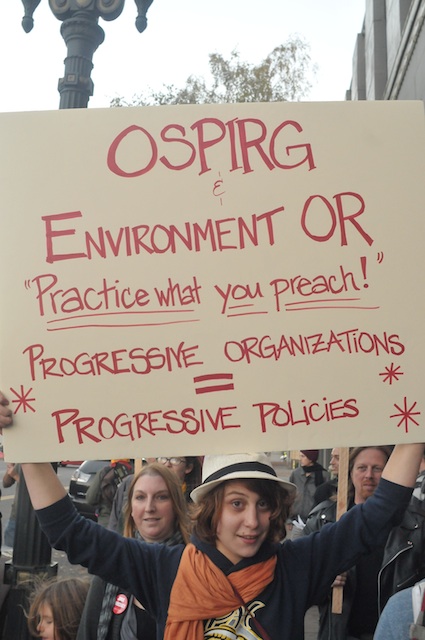 During the rally, some protesters including Barbara Byrd and Tom Chamberlain of the AFL-CIO; Margaret Butler, Chris Ferlazzo, and Bob Gross of Portland Jobs with Justice; and Father Paul Krueger entered a nearby coffee shop where Pat Wood, National Telephone Outreach Project Director and lead negotiator for The Fund. Chamberlain told Wood how the AFL-CIO has "always had a strong relationship with OSPIRG" and along with the others who confronted Wood, expressed disappointment in The Fund's treatment of its workers and its intransigence during negotiations.
Workers at The Fund and their supporters are demanding that the management of non-profits which position themselves as leaders in the progressive movement practice what they preach by treating their workers with dignity and respect. "The Fund fires activists and organizers without giving evidence against them," said Vern, an employee of The Fund. "And as any of you who have ever canvassed or worked the phones knows, treats their employees as disposable, easily replaced parts. This is a struggle for the basic rights that workers everywhere deserve."
Want to get involved? Call OSPIRG at: (503) 231-4181 and tell them they should be standing with their workers, not against them.