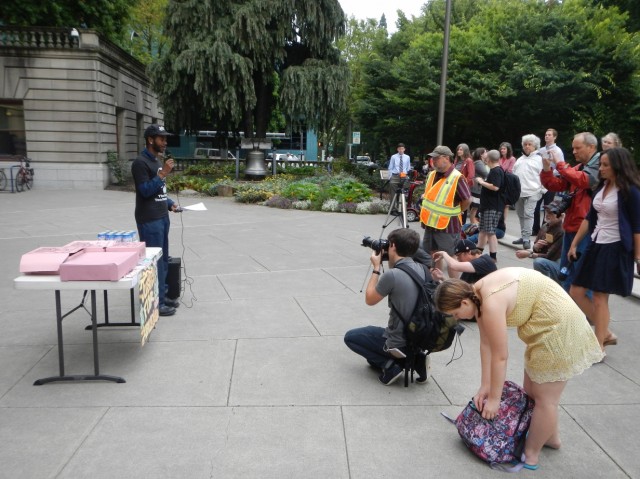 Story and video by Mungen Cakes.  Photos by Paul.
Citing concessions from and ongoing negotiations with the City of Portland, Cameron Whitten ended his hunger strike today with an event he called "The Big Eat". He gave a speech in front of city hall at 10 am culminating in a ceremonial bite from a custom made Voodoo Doughnut.
Having not eaten food since June 2 (55 total days), and going to water-only after 30 days, the visibly gaunt Whitten recounted in a speech the history of his strike and reported the developments that have caused him to end it. The Portland City Council has committed to renewing the contract with Dignity Village, allowing the successful program providing emergency housing relief to continue. Whitten will be working with the Council to duplicate this success in other camps. Also the City has declared an investment supporting a regional housing summit to include leaders from the four-county area.
Two of Whitten's original demands remain unaddressed. There have been no commitments by the Council to end the fines on Right 2 Dream Too. Whitten announced he will be working with the National Lawyers Guild to get relief. Also his demand that the Multnomah County Sheriff's Office stop executing evictions based on ongoing foreclosures went unanswered.
When asked what his near-term plans are, Whitten said he planned to be eating.
In addition to a small crowd of homeless and activists in attendance were Commissioner Amanda Fritz, Joe Walsh the Lone Vet, Midge Purcell of the Urban League, ex-mayoral candidate Eileen Brady, and Jason Renaud from the Mental Health Association of Portland.
Voodoo also provided a selection of doughnuts for the attendees.