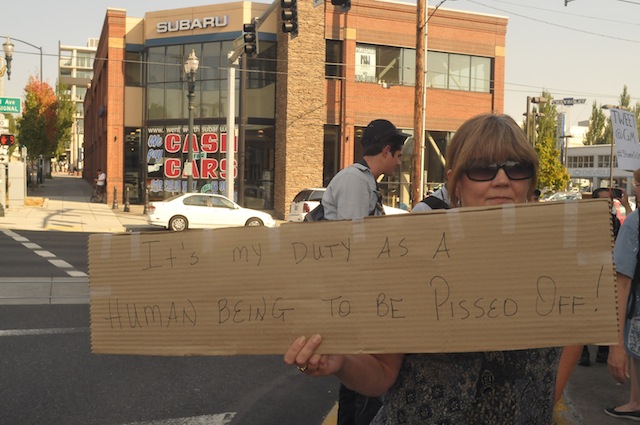 Story and photos by Pete Shaw
In coordination with actions in 11 other US cities, and in the spirit of the one-year anniversary of the Occupy movement, over 100 people gathered in Portland on September 17 to demand justice for General Motors workers on hunger strike in Columbia.
"The fact that General Motors is firing workers for injuries they developed on the job is bad enough," said organizer Paige Shell-Spurling, of the Portland Central America Solidarity Committee (PCASC). "The company's refusal to sit down and talk – the willingness they are demonstrating to turn a blind eye to the hunger strike is incomprehensible. Both show an utter disregard for human life and specifically for the lives of workers on whose backs GM's profits are made."
It's been two weeks since the Columbian GM hunger strike was reignited in solidarity with GM Colmotores workers who were fired without severance or worker's comp insurance after being injured on the job. The original August 1 hunger strike was called off when GM agreed to mediation with members of the Association of Injured Workers and Ex-Workers of General Motors Colmotores (ASOTRECOL). But after a failed sixth mediation attempt, workers felt they had no choice but to re-sew their mouths shut and continue their hunger strike.
Displaying banners and chanting loudly, Portland rally goers moved down Martin Luther King Jr. Boulevard to Wentworth Chevrolet where John Walsh, an activist with Witness for Peace, delivered a petition signed by over 4,000 people demanding GM return to the negotiating table. Among the demands are that GM make just compensation to the hunger strikers, as well as either reintegrating them into the GM workforce or providing them with an acceptable financial settlement. Walsh said the manager of Wentworth Chevrolet agreed to deliver the petition to corporate GM.
The march then continued to St. Francis Park, whose adjoining church has been a central space for Occupy Portland. The solidarity march for GM workers was a reminder that Occupy is both a local and a global movement. By some standards, Occupy began in Tunisia when Mohamed Baouazizi set himself on fire in protest of police confiscation of produce he sold from his cart – his sole source of income. From there, the conflagration spread to other countries, helping bring about the fall of Hosni Mubarak in Egypt, reenergizing the Indignados in Spain, and changing the conversation about economic justice in the US. Though it is impossible to pin history to one event or measure feedback loops between various struggles, these events – as folk singer and activist Pete Seeger would have it – are all links in the chain.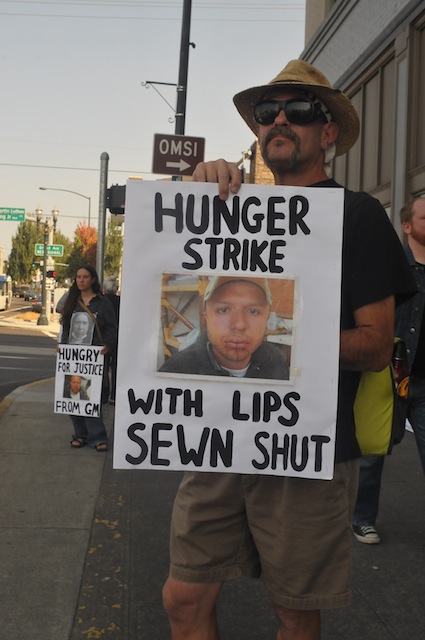 Rally organizer Greg Margolis of Jobs with Justice spotlighted the parallels between the Occupy and Columbian hunger strike. "GM workers in Colombia who suffered on the job injuries and were kicked to the curb by the company will be entering their third week of a hunger strike. One-third of General Motors is owned by taxpayers due to the bailout.This is a clear example of Occupy's objection to a system of corporate domination and exploitation of workers."
Though the crowd at Monday's rally was substantially smaller than the many thousands who showed up in Portland on October 6, 2011 at the beginning of what would be a 39-day occupation of Lownsdale and Chapman Squares, spirits were high. And in spite of the diminished numbers, it seems the appetite for seeking justice for economic and social inequality has greatly grown as people have become more aware of the multitude of struggles in the world, their commonality with them, and the difference they can.
Marco Mejia of Jobs with Justice reminded the crowd that, whatever the cause, successful actions happen when people join hands. "This is only possible," Mejia said, "when we all come out together to support each other."