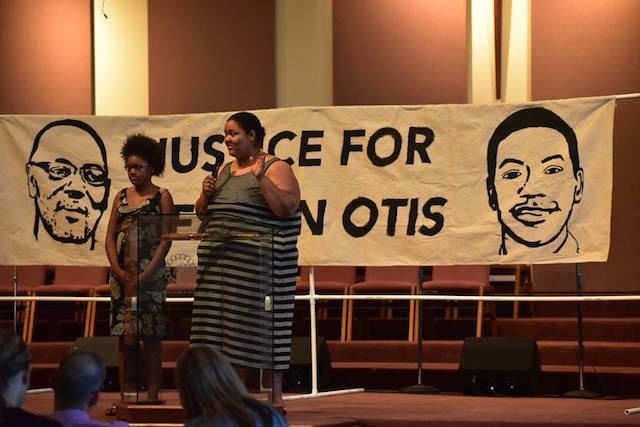 Six years have passed since the Portland police murdered Keaton Otis near the southwest corner of NE 6th and Halsey. On Thursday May 12, 2016, nearly 100 people gathered at Maranatha Church in Northeast Portland to remember Otis and his father, Fred Bryant, and to keep alive the demand for justice. A mixture of past, present, and future, the memorial served as a poignant reminder of the effects of police violence on people, families and communities, and also urged people to continue fighting for recompense, not just for Otis and Bryant, but for all people affected by that brutality.
Just prior to the event, JoAnn Hardesty and Walidah Imarisha hung the large canvas banner featuring the likenesses of Otis and Bryant that was created for last year's fifth-year memorial. It has since been out in all Portland weathers on the 12th of every month. Under its gaze, sometimes over 130 people have come to the monthly vigils to bear witness and to demand justice for Otis, Bryant, and all victims of police terror. As the backdrop for those who spoke in Maranatha Church's inner sanctum Thursday evening, it was a constant reminder that the fight for a more just world requires commitment to a long-term struggle.
Beginning June 12, 2010, a month after the police slew his son–and on the 12th of every month thereafter until his death in 2013–Bryant held his vigil near the spot where Otis was slain. Bryant would bring some photos of his son and light a few candles. Only a few feet down the sidewalk were holes from some of the 23 bullets that three police officers shot at Otis.
Six years later, the vigils continue. They must. Six years later, the police who murdered Otis still patrol Portland's streets. Six years later, those police–a total of seven were involved in Otis being pulled over and subsequently slain–have never been held accountable.
Six years later, so much of what was wrong that night remains alive and well.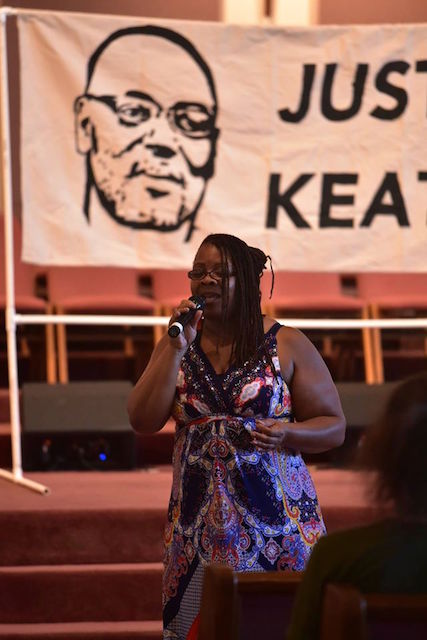 However, over these six years, much of what is right has sprouted and grown. Black Lives Matter is a movement formed in response to George Zimmerman's acquittal in the shooting death of Trayvon Martin in 2013, and it burst into national prominence after Ferguson, Missouri police officer Darren Wilson gunned down Michael Brown on August 9, 2014. Wilson was never indicted for that crime, and that blatant injustice set off a rebellion in Ferguson that spread across the country and has become a part of the country's political discourse. Increasingly, people are aware of the violence of police in society; increasingly, people share the heartbreak, pain, hurt, frustration, and indignity felt by the survivors of the Black people who are killed every 28 hours in the US by police and vigilantes. Hundreds of vigils have been held, vigils like Bryant's, ranging in size from a few to a few hundred, to honor the memory of the dead by fighting for justice.
Keaton Otis should be alive. As Imarisha recounted, Otis was "followed and stopped for looking like a gangster." That is not a supposition: officer Ryan Foote said he pulled over Otis because "he was wearing a hoodie…He kind of looks like he could be a gangster."
Fred Bryant should be alive. According to Imarisha, he "worked himself to death" trying to get justice for both his son and the community. "Fred is the reason we are here," she said. "Fred is the reason we come every month and the reason we will continue coming until there is justice for Keaton and for the rest of the community."
And Chris Kalonji should be alive too. Kalonji was 19 when a Clackamas County Sheriff's Deputy shot and killed him on January 28, 2016. Like Otis, Kalonji was a person of color. And like Aaron Campbell, who was murdered by the Portland police on January 29, 2010, he had been experiencing a mental crisis the day the police took his life.
Kalonji's mother, Irene Kalonji, spoke at Maranatha, driven by the same purpose that motivated Fred Bryant to get up in the morning and do whatever he could to advance justice. Her words were heartbreaking, as one would expect. "I cry for people who die from injustice," she said. "I cry for my son."
But Kalonji's words were also uplifting, reminding people why they had gathered this night. "I came here to this community because I know I can't make change alone. I want to be with you in hard times and in good times."
Imarisha, who emceed the event, made quite a few references to "holding space." How do people hold space? The monthly vigils, including this one, hold space, she said, for people "to remember their humanity and our humanity."
Art goes a long way toward reminding people of that humanity, and so three artists–Blaque Butterfly, Mic Crenshaw, and Rochell Rodeezy Hart–took the stage. Blaque Butterfly reminded the audience that much work remained, but that "together we can conquer anything." Crenshaw brought forth a long term view, connecting the police violence that took Otis' life and the lives of other people of color to "part of a continuum" of US imperialism, extending back to the days of slavery. Hart noted, "there is no blueprint for how to grieve your seed," and stressed that this struggle was "a movement, not a moment."
Hart's words echoed those of Dr. Rev. Leroy Haynes of the Albina Ministerial Alliance. "A movement requires sacrifice," he said. "A moment is significant, but it will pass away. A movement is protracted."
Haynes himself is an embodiment of the difference between moment and movement, having spent most of his life fighting for justice. He has likely lost track of how many times he has spoken to people who have lost loved ones to racial violence, but he never seems to lose his intensity, his commitment, and his compassion. "Struggles have to be followed inch by inch, foot by foot, yard by yard, acre by acre," he said, urging people to be participants in those trials, not spectators.
Alyssa Bryant–Keaton's sister and Fred's daughter–has struggled. Yet with each year she appears to move forward, more sure of herself. She talked about how grateful she is for the community gathered in Maranatha Church, as well as those who have attended the monthly vigils and others who have given her support. Alyssa Bryant is an apple that did not fall far from the tree. Like her father, she understands that this is not just about her. She focused on how much she misses her brother and father, "You think it would get easier, but it gets harder and harder." Describing her enduring sense of palpable absence, she noted that when the police murder, "they think they're killing one person. They're killing a whole family and a whole community."
With exemplary grace, Alyssa Bryant reached out to Kalonji, reminding her to keep fighting and to take care of herself. "We don't want to lose you," Bryant told her. "This community is here to help you."
The community will soon gain a new member, as Bryant is pregnant. Her child is due on January 10, Fred Bryant's birthday. "That kinda made me smile real big," she confessed. The news brought a round of applause from the crowd, a form of call and response befitting this house of worship. It was a moment that gave flesh and spirit to the words Hardesty had earlier used to describe the banner that she and Imarisha raised before the event began: "I'm happy this is made of such resilient material."
The vigil for Keaton Otis is held on the 12th of every month at the corner of NE 6th and Halsey, from 6-7 PM.  For more information go to: https://www.facebook.com/JusticeForKeatonOtis/?fref=ts