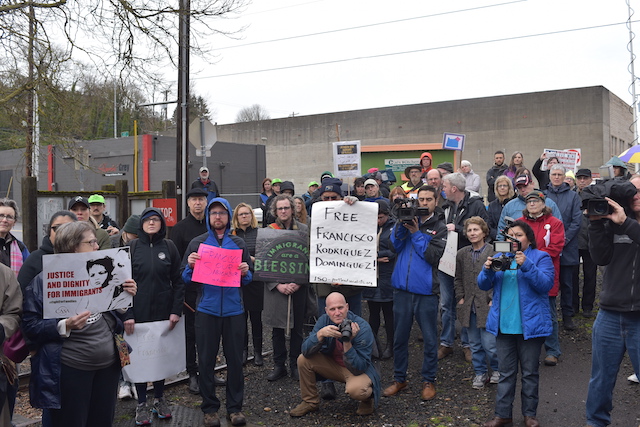 Story and photos by Pete Shaw
In the days following Republican Donald Trump's inauguration, many US cities and states–including Portland and Oregon–declared themselves to be sanctuaries. The term was meant to imply safety for people without documentation. However, it is one thing to make a declaration and something else entirely to enforce it. This is not to say such declarations are not important. They are. But they are also largely symbolic. In the case of Portland and Oregon, the meat of the statement lay in forbidding state, county, and city police forces from aiding the Immigration and Customs Enforcement (ICE) Administration. However, making it stick is no mean feat, not least of all because of the difficulty in forcing police to comply, as seen when deputies in the Multnomah County Sheriff's Office were found to have been aiding ICE agents in their efforts to deport people without documentation.
The W. Bush Administration began the country's most recent round of persecuting immigrants, which was ramped up under President Obama, and now appears to be readying for new heights under Trump. Immigrant communities and immigrant justice activists have for many years been organizing around the idea of sanctuary, depending on people, communities, and organizations to work together to craft strategies, tactics, and institutions to resist government persecution.
With the Trump Administration's frightening (albeit predictable) all-out, white-supremacist charged assault on immigrant communities–particularly those composed of people of color–those communities and their allies have consequently ramped up their resistance. While the resistance movement is not perfect, it does have an effect.
On Sunday March 26, Francisco J. Rodriguez Dominguez, a 25 year old recipient of Obama's Deferred Action for Childhood Arrivals (DACA) who came to the US as a child, was snatched by ICE agents from his home in Portland. The immigrant and immigrant rights community swung into action, unleashing a barrage of phone calls to ICE and quickly organizing a rally outside the ICE prison on SW Macadam that drew 75 people representing a wide cross-section of the various organizations that have come together in an effort to create the actual sanctuary that government proclamations aspire to. Following the chatter on Facebook on Sunday night as well as Monday morning, it became clear that the number of phone calls being made was gumming up ICE's phone lines. Between those calls and Monday's action, the immigrant and immigrant rights communities made it clear to ICE–and to the Trump Administration–that they were watching.
I was down at the ICE prison on Monday for the rally. It was, as these events always are, moving and uplifting. People ranging from those who worked with Rodriguez at the Oregon Food Bank, where he coordinates the Reynolds Middle School food pantry, to a reverend at his church–buttressed by numerous other members of local faith communities, and to family and friends who on a deep personal level understood what kind of awful hole would be left in the family and communal fabric from which Rodriguez was torn. That story was not confined to just Rodriguez: it was understood that every time ICE snatches someone, they are ripping a hole in a family and a community.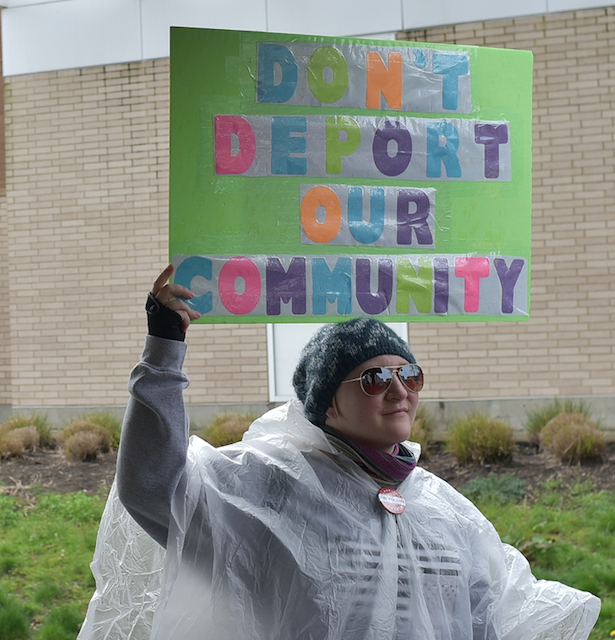 Cameron Coval, who is a food pantry coordinator, first met Rodriguez when working at Glenfair Elementary School where Rodriguez worked with children during recess and after school as a soccer coach. His experience working with Rodriguez made Rodriguez the obvious choice to coordinate the Reynolds Middle School food pantry which serves 80 to 100 low income families every Friday afternoon. Coval said about Rodriguez, "Francisco makes our community stronger, smarter, happier, and better nourished. And we're hurting without him."
"We're out here to help Francisco," Coval continued, "the same way he's been devoted to helping our community."
Oregon's faith communities have been stepping up to offer support and sanctuary to those immigrants pursued by ICE. The most prominent example of this has been that of Francisco Aguirre who spent 81 days at Augustana Lutheran Church in Northeast Portland, but at a press conference held at Augustana Lutheran on February 24, a wide array of faith and community leaders made clear that they would offer any and all aid they could to those whom ICE would threaten to detain and deport. They were part of the more than 400 faith communities across the country who pledged to support immigrants being persecuted by ICE.
Reverend Chris Craun of St. Michael and All Angels Church and Reverend Samuel Borbon of St. Mary's Episcopal Church read a statement from the Right Reverend Michael J. Hanley, Episcopal Bishop of Western Oregon. "Francisco is a member of our community working and worshipping in one of our churches," said Hanley. "He does not represent a threat to the community and his arrest is a miscarriage of justice which does no good to anyone…This is not an individual that our government should be concerned about nor take action to detail. Law enforcement priorities such as these serve to undermine public safety and sows (sic) fear in the communities in which we live and worship. Such policies are against all that we believe in as members of the Christian faith and as Americans."
Brandon Hudspeth, who has helped students without documentation navigate the financial aid system to help them get through college, connected Rodriguez to a wider world of immigrant persecution, saying, "As I stand here today, I see this massive crowd here, and I'm sorry to be reminded of the amount of people who couldn't make it. Of those students who are currently working toward getting out of the system that would keep them at poverty levels, I'm thinking of my friend Juan, whose father was dragged away in the middle of the night and who is now in a fellowship in Mexico. I'm thinking of my grandmother who cannot visit us in Oregon because of the increasing checks or the reports of checks at airports. So let's all be a little bit louder for them today."
Hudspeth then talked about the fears of immigrant families they they will be torn apart, but as well had a positive message for those resisting ICE and clamoring for change to the US immigration law. "Because of what I've heard out there on the streets, it's become very evident to me that our message appeals because it's clear to all of us that the system that is in place is rigged and it's outdated and it needs to be fixed now. We all collectively realize that it's wrong that families live in such fear that they are hardly living at all."
The rally was a boisterous affair, even during a ten minute spell when the weather acted up and sent down an angled rain that made finding shelter difficult. On my way back to the bus, I was lucky enough to converse with Reverend Borbon and Blanca, a woman who was walking with him. They are kind people, dealing with the horror of seeing families and communities living in fear, and often in tatters due to our unjust immigration system that willfully ignores the US economic and foreign policies such as so-called free trade agreements and support for murderous regimes that compel people to leave their homes and come here in search of something better. Both expressed pleasure in seeing so many people coming out in support of Rodriguez and other immigrants. And while I am hardly a religious person, I have the utmost respect for people like Blanca and Samuel whose faith calls them to pursue justice.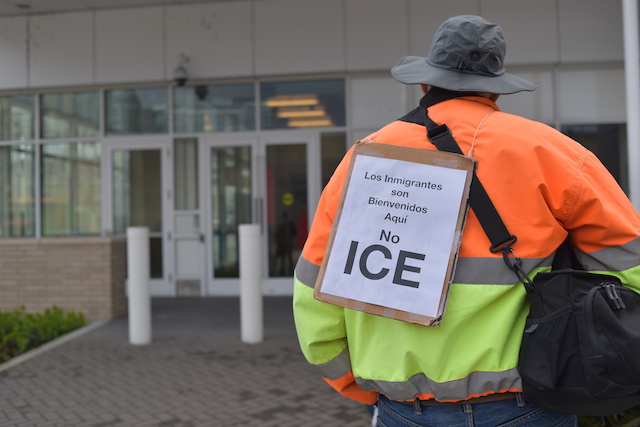 That pursuit found a victory. When I got home, I found out Rodriguez had been released. Without doubt, this was partially due to the pressure applied through those numerous phone calls and the large clutch of supporters who gathered on short notice to demand Rodriguez be given back his freedom. It was a fine example of what can happen when organized people exert their will.
That will is being flexed across the country. On the same day Rodriguez was released, Attorney General Jefferson Sessions saw fit to reprimand self-proclaimed sanctuary cities, threatening them with a loss of federal funding for services such as police. Considering the aid some of them, such as the deputies in the Multnomah County Sheriff's Office, have given to ICE, this does not seem like the worst of ideas. In fact, cuts to federal funding for police may open up avenues for real police reform, if not outright abolition of policing as we currently understand it. Regardless, it is clear that the organization of immigrants and their allies is at least a bit more formidable than the Republican Trump Administration perceived. That has been made evident by the protests at the airports around the country when Trump and his fellow Republicans tried to ban Muslims from the country, and through multiple judges shooting down that ban, as well as in rallies like that at Portland's ICE prison on Monday.
In short, people are rebelling, and clearly those in power are not happy to see the power of the people expressed in the streets. Clearly there is more work to be done.  Rodriguez's release is important, but many more people equally as valued to their families, friends, and communities, such as Jiminez, are being detained and possibly deported. But as Blanca and Borbon said, those victories give hope.  (Editor's note: as this article was being written on Tuesday March 28, Anselmo Jimenez, a 22 year old father, was seized by ICE at the Multnomah County Courthouse after making a child support payment.  Once again, the immigrant and immigrant rights community swung into action, peppering ICE with phone calls demanding Jimenez be freed.  ICE released him a few hours later.)
And from that hope we can push for more. When Hudspeth addressed the crowd, he urged people to get involved with one of the many groups organizing to fight for immigrant justice. He has seen the powerful results of that organizing, and urged the people rallying outside the ICE prison to reach for the same, and even more.
"We can get comprehensive national legislation to fix the outdated system. We can stop ICE from operating in this city like we did in Chicago by passing legislation as well as building the biggest anti-deportation machine that the West Coast has seen. And so if that's a dream that you want to see realized here, you need to become involved. You need to follow these groups, Milenio and Voz, on Facebook. You need to come to their meetings. It doesn't take more than a few hours a month to really achieve substantial change. These people know what they're doing, and when they ask you do do something, know that you will have a productive impact on stopping this horrible system that is ripping families apart, pulling them away on their way to work, that is destroying families' ability to be in contact with one another and truly have the American Dream. We can do this, but we need you to be involved. We will win this."
Want to get involved in the fight for immigrant justice?  A small sample of groups involved in this struggle include: Causa, IMiRJ, the Latino Network, the Momentum Alliance, the Voz Workers' Rights and Education Project, and PCASC.