This story is from the Occupied News Wire. It was originally published in the Occupied Wall Street Journal.
by Arvind Dilawar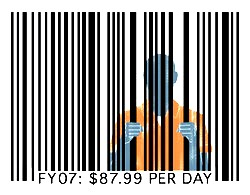 Corrections Corporation of America (CCA), owner of the largest private prison system in the United States, recently sent a letter to 48 states offering up to $250 million to manage government-owned detention centers. The letter lists the criteria of eligible purchases, which include an assurance that state corrections agencies "have sufficient inmate population to maintain a minimum 90 percent occupancy over the term of the contract."
This guarantee isn't difficult to rationalize when considering it from CCA's point of view. They are paid by the government for each prisoner they house, so they want to house as many prisoners as possible in order to maximize their revenue.
But what if there aren't enough prisoners to fill CCA's quota? Private prisons have faced this dilemma before, and they've responded by buying prisoners through legislation, government infiltration and old-fashioned bribery. And in the not too distant future, these conditions may mean that the mass arrests of Occupy protesters could become a windfall for investors.
How to Purchase Prisoners
1. Write the Laws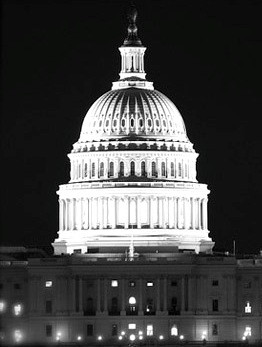 From 1998 to 2010, CCA contributed almost $90,000 to governors, senators, representatives and assemblymen on behalf of the American Legislative Exchange Council (ALEC). For the last two decades, CCA paid an additional $5,000 to $50,000 a year directly to ALEC for corporate membership.
According to its website, ALEC is a "nonpartisan membership association for conservative state lawmakers who shared a common belief in limited government, free markets, federalism and individual liberty." The group drafts model bills that are heavily influenced by its industry members and disseminates these bills to its legislative members. By ALEC's own account, the process results in almost 1,000 bills based on its models being introduced in state legislatures each year, of which 20 percent go on to become law.
In apparent conflict with its belief in individual liberty, ALEC has drafted a number of bills that benefit CCA, particularly by shoring up sentences and creating new laws requiring arrests. In 1995 alone, ALEC's Truth in Sentencing Act, which requires any person convicted of a crime to serve no less than 85 percent of their sentence, was enacted by 25 states. Arizona's controversial Support Our Law Enforcement and Safe Neighborhoods Act, which requires police to arrest anyone who cannot prove they entered the country legally when asked for documentation and prohibits officials from limiting the enforcement of federal immigration laws, was drafted at an ALEC conference in the presence of CCA. And although the full details of ALEC's model legislation are only available to its 2,000 legislative and 300 corporate members, some of the initiatives listed on the group's website also stand to benefit CCA through harsher sentencing. The Swift and Certain Sanctions Act, for example, requires state corrections agencies to punish parole and probation violators with a system of increasing penalties, including incarceration.
2. Infiltrate government
Beyond the model legislation produced by ALEC, CCA also influences government by hiring former politicians and infiltrating state agencies with its own employees. The company's chief corrections officer, Harley G. Lappin, for example, joined CCA
after 25 years with the Federal Bureau of Prisons
, serving as the agency's Director during his final eight years there. Perhaps not coincidentally, Lappin is the writer of the aforementioned letter offering to buy states' detention centers.
But the revolving door spins even faster: When Ohio Governor John Kasich took office in 2011 and proposed to sell five state prisons, he appointed Gary Mohr as the state's director of rehabilitation and correction. Mohr had served as an adviser to CCA since 2005, and eight months after his appointment by Kasich, CCA purchased Ohio's Lake Erie Correctional Institution for $72.7 million. CCA has also hired Governor Kasich's former chief of staff, Donald Thibaut, to work as a lobbyist on its behalf in Ohio.
3. Bribe officials
Although this does not apply to CCA in particular, other private prison companies have demonstrated that it is possible to purchase prisoners in a more direct fashion. In 2002, Michael Conahan, a judge from Luzerne County, Pennsylvania, used his budgetary discretion to shut down the local county-run juvenile prison by eliminating its funding. Over the next five years, Conahan and fellow Luzerne County judge Mark Ciavarella sent thousands of juveniles to two private detention centers, PA Child Care and its sister company, Western PA Child Care. On average, the proceedings lasted less than two minutes, with the defendants often lacking legal counsel and receiving harsh sentences for nonviolent or insignificant crimes, even against the advice of probation officers.
In exchange for shutting down the public non-profit prison, ensuring a stream of inmates to the two new for-profit prisons and contracting the court to pay $1.3 million in annual rent to the private prisons, Conahan and Ciavarella received $2.6 million in kickbacks from PA Child Care.
How to Create Criminals
The troubling growth of private prisons and their political consequences are augmented in light of the recent spat of ad hoc legislation enacted across the country to
outlaw Occupy Wall Street protests
. While the Occupy movement has been beset by mass arrests from the start, the few Occupations which outlasted the initial crackdowns are now facing targeted laws concocted by local governments. On December 9, a bill allowing the removal of personal property stored on city sidewalks in Honolulu
was signed
; less than two months later, the law was used to
evict Occupy Honolulu protesters
and confiscate their belongings. On January 30, a recently passed ordnance giving police the ability to evict and arrest people camping, living or sleeping on Charlotte's City Hall lawn
went into effect
; later that day
seven Occupy Charlotte protesters were arrested and charged with misdemeanors
. Going forward, Occupy Boise
faces a bill evicting them
and Occupy Nashville faces legislation "
banning unauthorized camping on public grounds
."
Up to this point, most of the 6,557 Occupy protesters who have been arrested were charged with low-level misdemeanors, but Gideon Oliver, head of the National Lawyers Guild, which has been working on behalf of protesters, has pointed out: "More and more of these cases are being charged as felonies."
Considering the growing number of felony charges, it's possible that Occupy protesters could begin facing prison time. And with the trend in anti-Occupy legislation already set in motion, little is in place to prevent private prison companies from manipulating these bills in their favor via their tried-and-true methods of lobbying, collusion and bribery.
The irony is that the incarceration of Occupiers could be a byproduct of the very forces they're railing against. The tragedy is that the suppression of an American Spring could be lining someone's pockets.